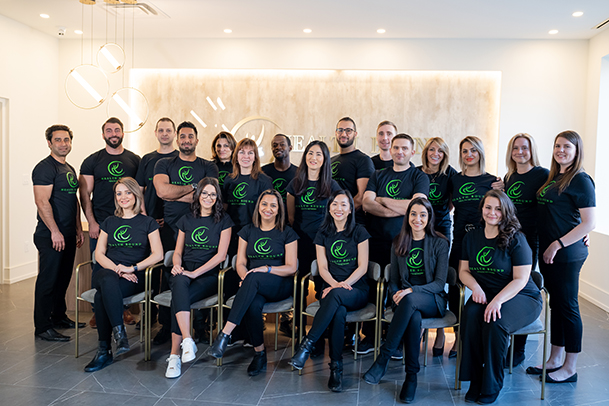 Physiotherapy Clinic Barrie
Our Physiotherapy clinic in Barrie is conveniently accessible and provides patients with a safe and clean environment. We are CARF-accredited and goal-oriented, assisting you in resuming an active lifestyle, regaining mobility, and reclaiming your independence.
Our interdisciplinary team (which includes physiotherapists, occupational therapists, chiropractors, massage therapists, and kinesiologists) is dedicated to providing evidence-based and client-centered therapy in our state-of-the-art facilities and clients' homes and hospitals.
BOOK NOW
SERVICES AVAILABLE AT THIS LOCATION
Post Trauma/fracture Rehabilitation
Traumatic Brain Injury Rehabilitation
Spinal Cord Rehabilitation
Cognitive Functional Rehabilitation
Concussion Rehabilitation
Vestibular Rehabilitation
Chronic Pain Rehabilitation
Work Hardening Program
Catastrophic Injury Management
Occupational therapy
Personal Training Program
Hospital Discharge Planning
Community Reintegration Program
Physiotherapy
Chiropractic
Massage
Cupping
Acupuncture
CONDITIONS WE TREAT
Arthritis
Arthritis is a comprehensive word that encompasses over 200 rheumatic diseases and illnesses that affect the joints, connective tissue, and surrounding tissue. Pain and stiffness can be reduced with physiotherapy and chiropractic treatment.
Carpal Tunnel Syndrome
Carpal tunnel syndrome is caused by pressure on the median nerve in the wrist, which is also known as repetitive strain injury. Physiotherapy can help with pain, tingling, and numbness.
Frozen Shoulder
A frozen shoulder causes discomfort in the shoulder when the person moves it. Physiotherapy can help you manage your pain and slow down the advancement of your ailment.
Hand and Wrist Pain
The fingers, hand, and wrist might develop numbness, tingling, and weakness. However, sensation, movement, and dexterity can all be restored with physiotherapy.
Herniated Disc
When one of the bones in the vertebrae (spine) develops a problem, it is called a herniated disc. The most effective approaches to address the injury, discomfort, and pain are chiropractic and physiotherapy treatments.
Knee Pain
Tendonitis, ACL tear, bursitis, overuse of the knee, osteoarthritis, or other condition can cause knee discomfort. Physiotherapy speeds up recovery and enhances healing.
Lower Back Pain
Injury, overuse, poor posture, sciatica, scoliosis, arthritis, or various spinal ailments can all cause pain in the lower back. A physiotherapist can assist in identifying the issue and developing a customized treatment plan.
Muscle Sprains and Strain
Strains and muscular sprains can occur in everyday activities, sports, motor vehicle accidents, and over-activity. Medical massages and physiotherapy will speed up the healing process.
Neck Pain
Bad posture, whiplash, a ruptured disc, or even a lymphatic or throat infection can cause neck pain. Pain will be relieved and mobility restored with chiropractic and physiotherapy treatment.
Plantar Fasciitis
Plantar fasciitis is the most common cause of stabbing heel pain. Our foot care professionals can assist cure the disease and reduce the discomfort that occurs with the first morning steps.
Post-Surgery
After a surgical operation, it is normal for individuals to have persistent discomfort, limited movement, and numbness. Consult a licensed physiotherapist to determine the source of your pain and receive customized therapy.
Bad Posture
Neck, back, hip, and vertebral problems can result from an overly bent spine caused by poor posture. A visit with a chiropractor can help you improve your posture and discover ways to keep it healthy.
Rotator Cuff Injuries
Rotator cuff injuries can happen due to sports, repetitive motion, or even everyday activities. Rotator cuff injuries can be treated with physiotherapy to relieve pain and symptoms.
Scoliosis
Scoliosis is a condition in which the spine curves in an 'S' or 'C' form. Chiropractic care can help with pain, digestion problems, and movement concerns.
TMJ
Temporomandibular joint dysfunction, often known as TMJ discomfort, is caused by problems with the jaw muscles and joints that connect it to the skull. Physiotherapy and massage can help with pain, discomfort, and movement.
COVERAGE OPTIONS
Extended Health Insurance
You may be covered for some personal care services if you have extended health insurance through workplace group benefit plans organized by your employer, unions and trade groups, and professional associations.
Automobile Insurance Accident Benefits
You might be eligible for accident benefits if you were involved in a motor vehicle accident. Medical and Rehabilitation Benefits, Attendant Care Benefits, Caregiver Benefits, and Lost Educational Expenses are just a few of the benefits you may be eligible for due to your injury.
Workers Compensation Benefit Overview WSIB/WCB
The Workplace Safety and Insurance Board (WSIB) can help you if you have been wounded or injured at work. Please visit the WSIB website at https://www.wsib.ca/en to learn more about the advantages available to you through the WSIB.
VIRTUAL CARE
From the comfort of your own home, we provide safe one-on-one virtual therapy services! We adhere to all industry best practices and rules to secure your data and privacy. In addition, you may use a secure platform to communicate with your therapist in real-time.
What are the Advantages of Virtual Therapy?
For clients in rural locations, this is a fantastic choice.
Suitable for those with physical disabilities
An alternative to face-to-face treatment
Make an appointment for virtual treatment now!
BOOK NOW
Contact Info
Address
65 Bell Farm Rd,
Barrie, ON L4M 5G1
Accessibility
Main entrance is wheelchair accessible
Hours of Operation
Monday to Friday 9:00AM to 6:00PM
Saturdays- Closed
Sunday- Closed
Languages Spoken
Farsi, Spanish, Russian, English
Parking
The building has free parking